Eric comes to us from the other Squires Boy, author, editor, horse-breeder, collaborator, partner, and friend, brother Jim.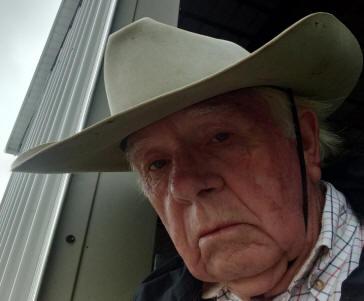 He's the family member most supportive of me and my music business experience throughout my life. Jim is the evidence of some genetic quirk that happened somewhere along the Squires/White/Akin line that blessed him and me with the gift of words. Jim first put his gift to work as a reporter for the Nashville Tennessean which led to a Neiman Fellowship at Harvard University, a stint as the Washington Bureau Chief of the Chicago Tribune during Watergate, on to the editorship of the Orlando Sentinel, and ultimately nine years as editor of one of the largest newspapers in the country, the Chicago Tribune.
Having bred, raised, and trained award-winning Paint horses while a part-time breeder in Illinois, upon retirement from the Tribune Jim moved to Versailles, KY, to raise thoughbreds, one of whom, Monarchos, became the second fastest horse behind Secretariat in winning the 2001 Kentucky Derby. All the while authoring books like Read All About It, a commentary on the corporatization of the newspaper industry, Secrets Of The Hopewell Box, a political history of the city of Nashville, and Horse Of A Different Color, about his duck-out-of-water rise to the breeding hierarchy of the Kentucky horse racing industry.
While still working on several new book and movie projects, his gift of words has spilled over into his long-time passion for music and songwriting. His coming of age as a songwriter shows in one of the centerpiece cuts off the band's Flaws And All album. I regard it as maybe the best song I've ever had a part of. Several more of our collaborations will be included in Flaws And All 2 project hopefully in the fall.
You Can't Make Old Friends (studio master)
Jim bought me my first guitar at age 10. It opened a door for me that helped us both realize a dream of being a songwriter. And now he's given me two of the best and most cherished guitars I've ever owned. He says they're his contribution to the Living Room Floor Band. But he's contributed a whole lot more than that over the years to getting me to where I am.
And now he's sharing some of his words and music with me.
And I owe him more than I could ever repay.